Heating from Rīgas Siltums are provided in the apartments. Each apartment have heat consumption meters set up in the basement premises, data of which will be sent to computers of the service provider. Apartments are equipped with heat convectors installed in floors, with a temperature adjustment option. The house is equipped with two panoramic noise-free designer elevators of high-speed, as well as a private underground parking lot. All apartments are equipped with the most modern fire-alarm system. Safety of residents is provided by a 24-hour security: video surveillance cameras, doorphones, apartments connected to the alarm with an output to the remote of the security company, access chip cards, automatic gates that open with a remote control.
Download technical description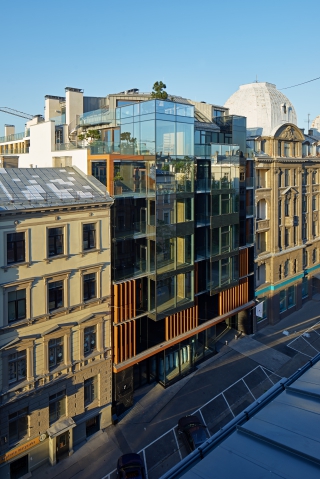 TAL RESIDENCE is located on landscaped grounds with an area of 1 149 m2. In the 8-storey building there are 34 apartments. A place for concierge service and guest reception has been foreseen in the designer halls. All apartments of the luxurious residence will have spacious balconies, roof terraces and private territory. Apartments are offered with a free-choice planning and vast space. Option for joining apartments is possible even in the late stages of construction.