TAL RESIDENCE – a tribute to the great genius, chess-player, citizen of Riga – Mikhail Tal, as well as to the traditions and history of the city of Riga.
Adventurism, ultimatism in decision-making, inexhaustible optimism and energy, accompanying Mikhail Tal on the journey of his life, became the source of inspiration and helped finding a reflection in architectural solutions for the creators of TAL RESIDENCE.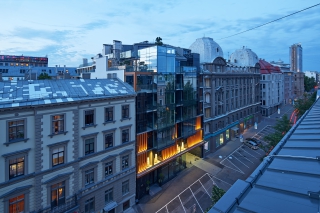 In the most beautiful part of Riga's "Quiet Centre", surrounded by Jugendstil buildings included in the Culture Foundation of UNESCO, TAL RESIDENCE building appears – the architectural monument of the 21 century. Exclusiveness of location and architectural solutions, as well as an underground parking lot – these are the unique advantages of the project. The openness and transparency of the building's modern architecture allows its residents to enjoy an amazing view over the historical buildings of the neighborhood, all through the panoramic windows and vast terraces.